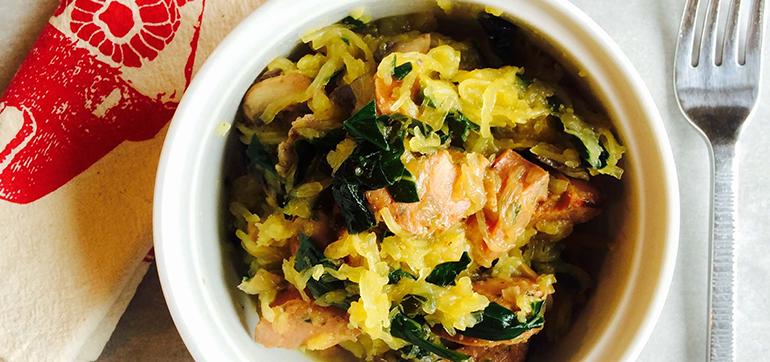 Spaghetti Squash with Chard + Sausage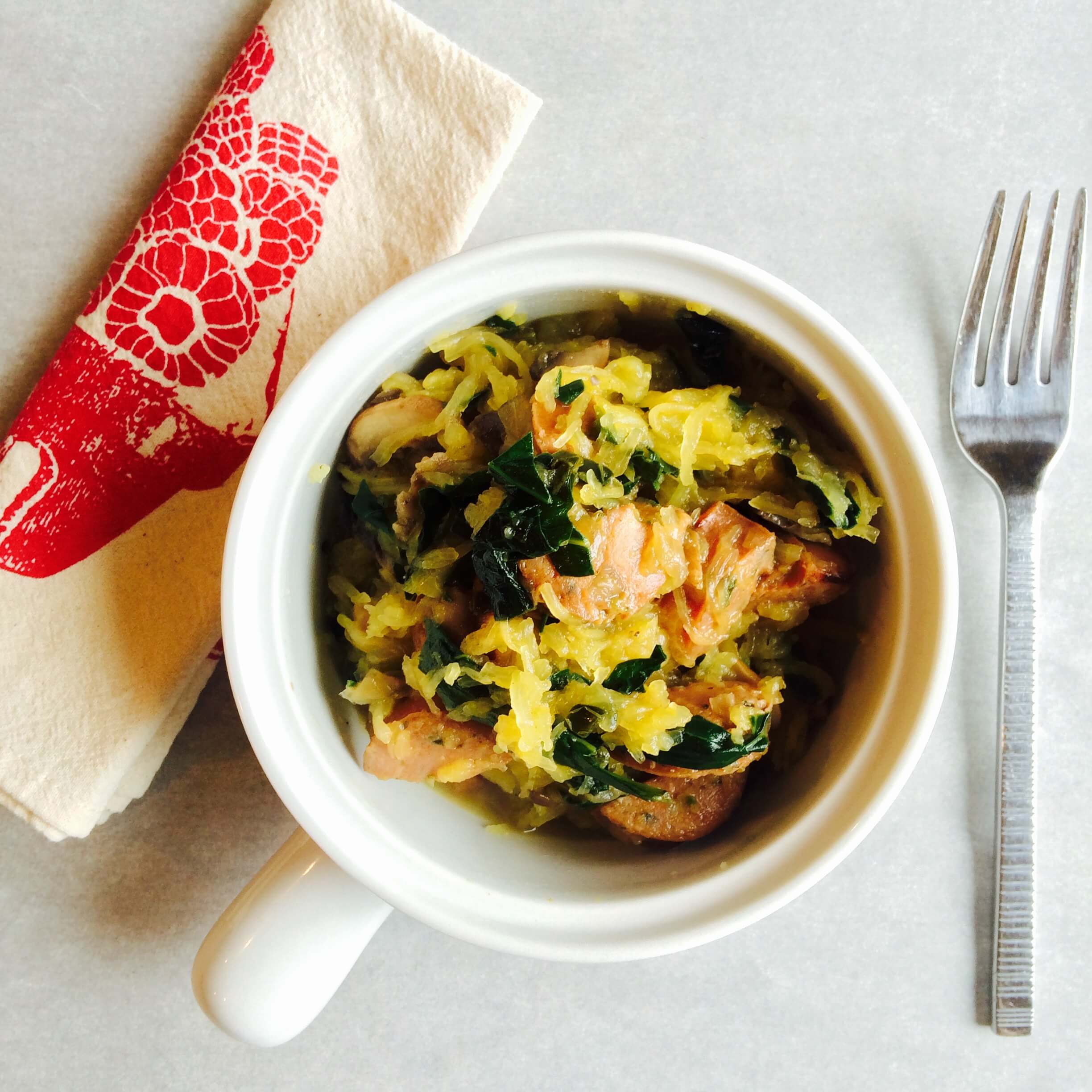 What is spaghetti squash?
Spaghetti squash is a variety of winter squash. It's oval in shape and has a tough light yellow outer skin. The inner flesh is a more vibrant yellow and turns into spaghetti-like strands when cooked, hence the name spaghetti squash. The flavor is very mild, allowing it to pair well with all sorts of sauces + toppings. It can also be eaten hot or cold, depending on your preference.
Why spaghetti squash?
nutrition snapshot.
1 cup cooked contains: 42 calories, <0.5 gram fat, 10 grams carbohydrate, 2 grams dietary fiber, 4 grams natural sugars, 1 gram protein
Typically winter squash are more starchy and higher in carbohydrates, but this variety of winter squash is quite different. It has about 10 grams of carbohydrate per cup of cooked squash [about half as much as other winter squash varieties], making is a good low-carb option for those of you watching or liming your carbohydrate intake. It's also a pretty good source of fiber which will fill you up and keep you satisfied between meals. But note that spaghetti squash is low in protein and fat. So what does that mean? It means that in order to make a balanced meal you'll want to add in a healthy fat source + some protein [recipe below]. Then you have the perfect meal!
vitamins + minerals.
Spaghetti squash contains many vitamins and minerals essential for overall health. Most notably, it's a great source of both vitamin C and B-6 [also called pyridoxine]. It also contains a good amount of potassium, calcium and magnesium. As a side note, when it comes to eating a predominately whole-food based diet, stressing about individual nutrient intake becomes less important. This is because different whole foods contain a variety of vitamins and minerals, so as long as you eat a variety of colorful fruits + veggies, you nutritional bases should be covered.
Step-by step guide for cooking a spaghetti squash.
step 1 – preheat your oven to 400 degrees.
No explanation needed here. Just set your oven to 400 and allow it to preheat while you prep your squash for baking.
step 2 – cut the squash in half lengthwise.
Using a sharp knife, cut the spaghetti squash lengthwise from top to bottom. Depending on the size of your squash, this part can be fairly difficult because uncooked squash are tough + hard. If you're unable to cut through the squash, zap it in the microwave for a couple of minutes to soften is slightly. Just soft enough to be able to cut it safely.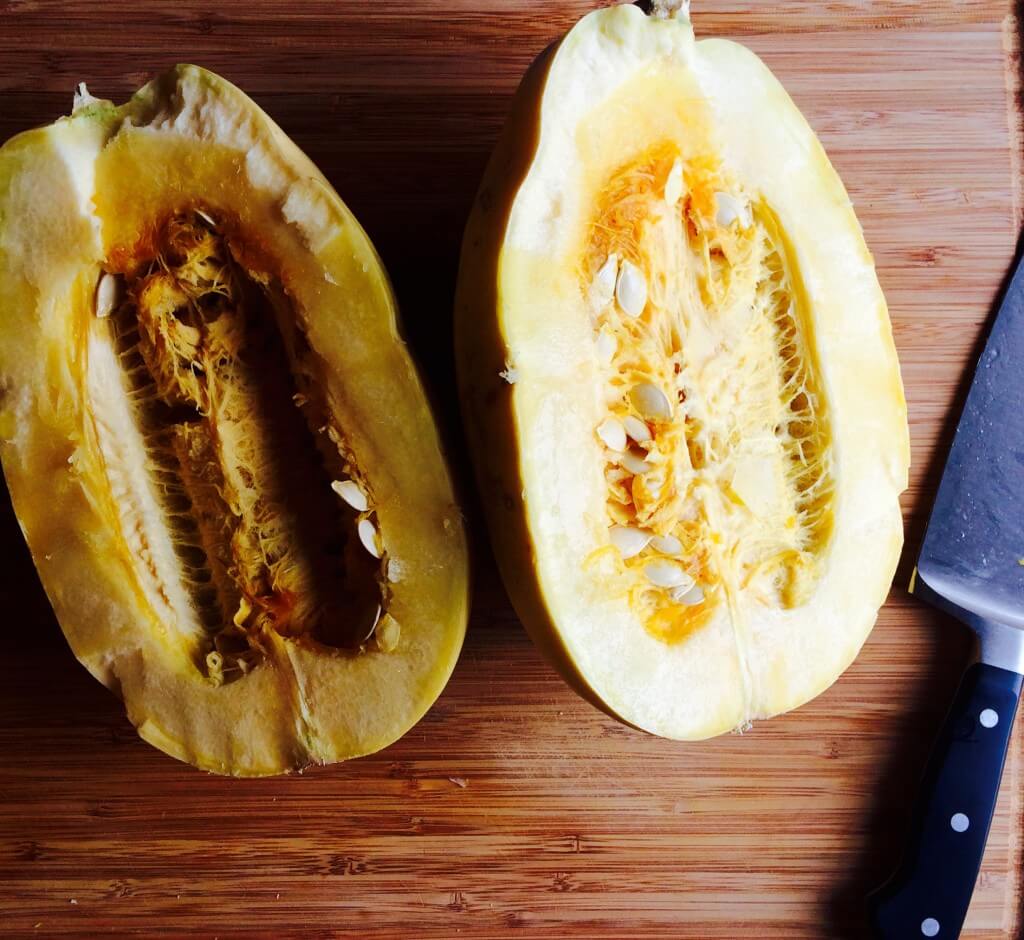 step 3 – scoop out the seeds.
Using a spoon, scrape out all of the seeds from the inside of the squash until you're left with a smooth surface. Be sure not too scoop out too much of the flesh though, because that's what will eventually become your "spaghetti." You can either toss the seeds, or rinse and bake them for snacking [just like you would pumpkin seeds].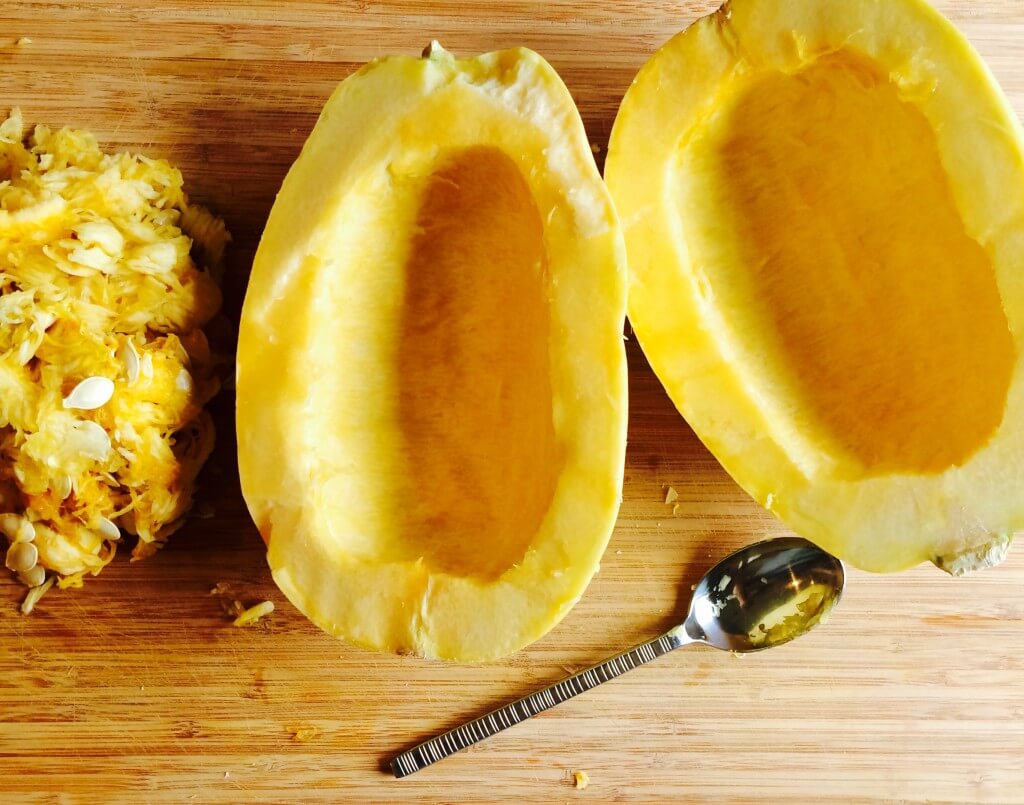 step 4 – add cleaned squash halves to rimmed baking sheet.
Place the squash halves cut-side down on your baking sheet. Add a little bit of water to the baking sheet, just enough to cover the bottom. I like adding water because it steams the squash and gives it a more tender flesh. Adding water is optional though; it will cook just fine without the added water.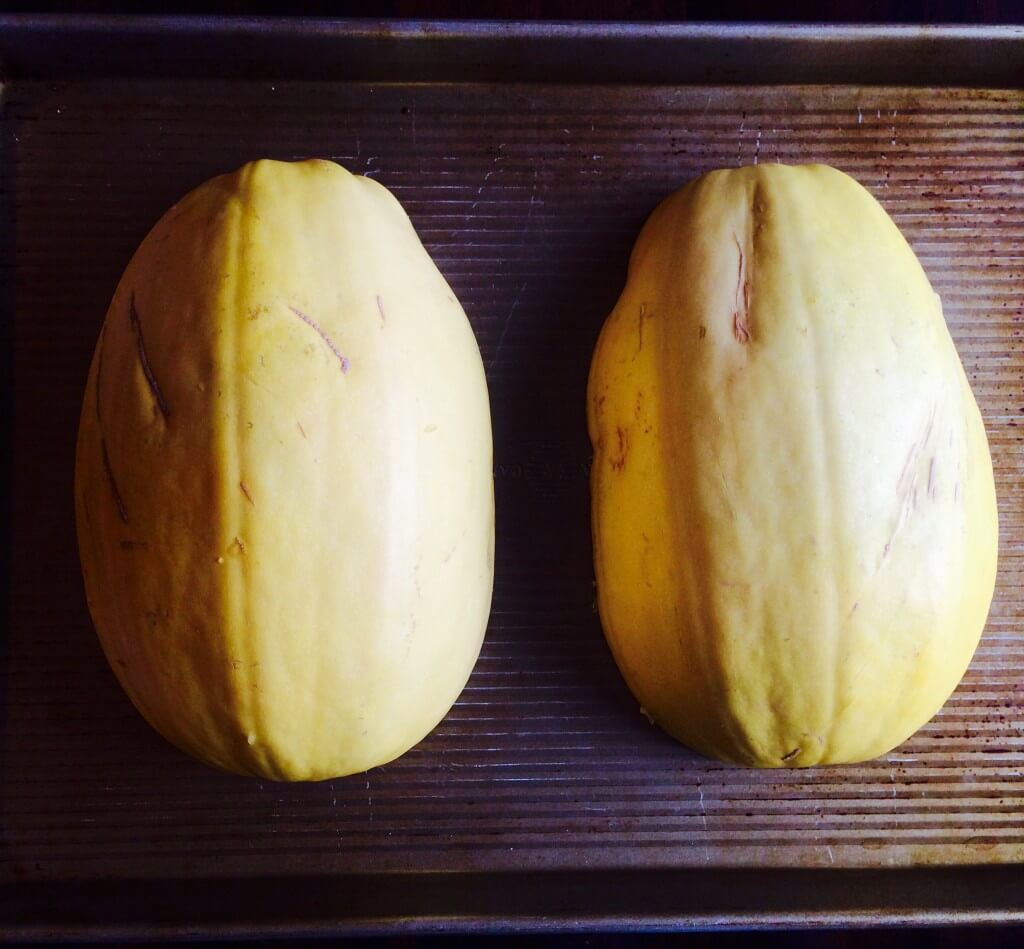 step 5 – cook squash.
Add squash to your preheated 400 degree oven. Depending on the size of your squash, it will bake for 30-45 minutes. The squash is done when the flesh is tender all the way through. You can push on the outer peel and it should feel soft. And the inner flesh should easily separate into strands when running a fork through it.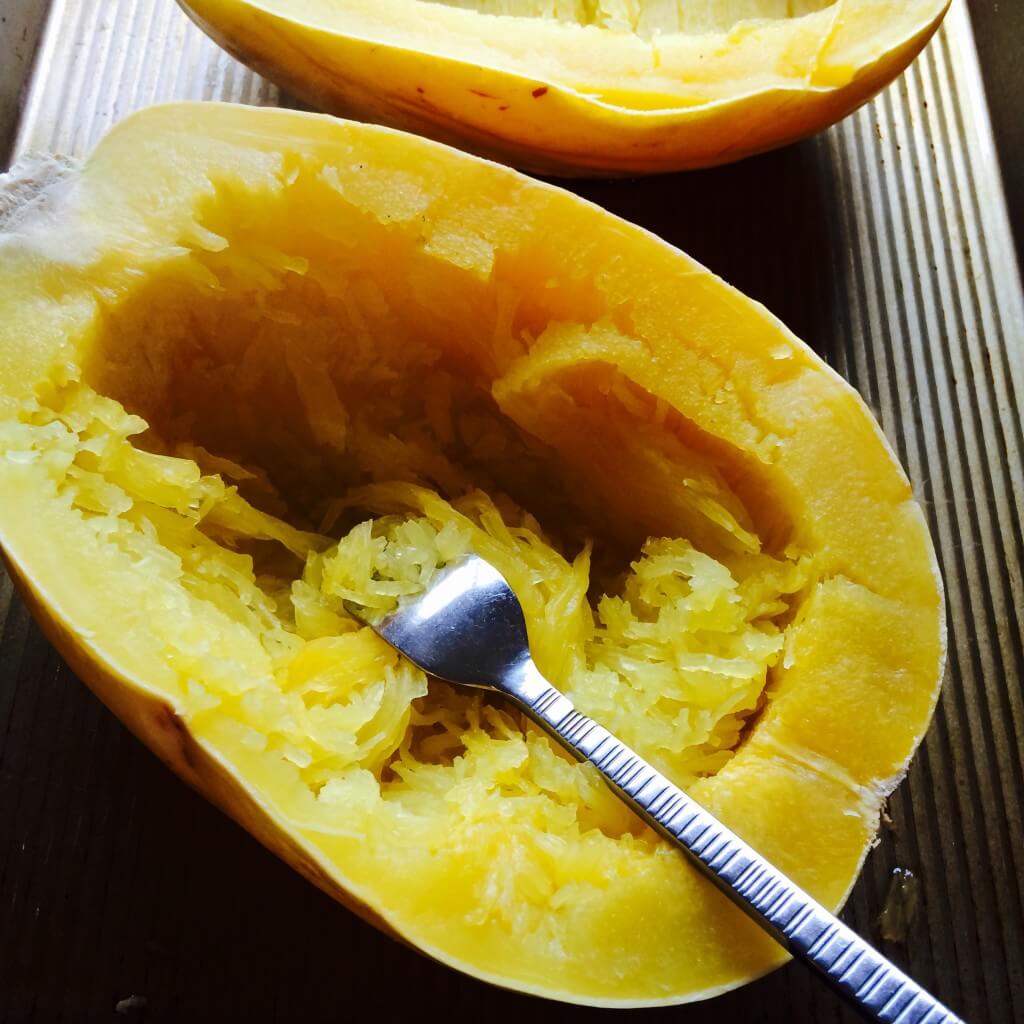 step 6 – separate flesh into spaghetti-like strands.
Using a fork, run the fork across the flesh from end to end [top to bottom], separating it into spaghetti-like strands. If your squash is tender, this should happen very easily. If not, pop it in the oven for a few more minutes until it is. You will be left with squash "noodles" and empty shells. Discard the shells.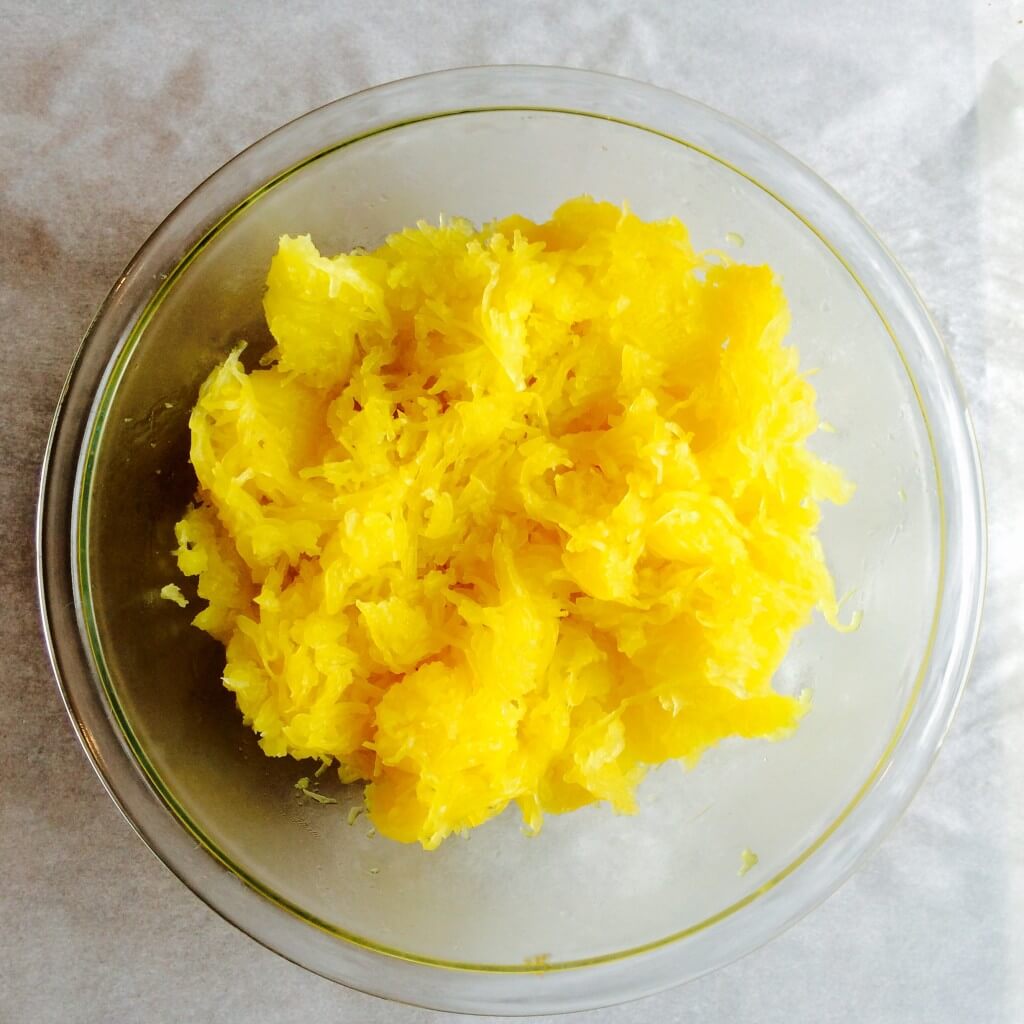 step 7 – serve and enjoy.
Top the squash "noodles" with your favorite sauce or additions. You can serve immediately or refrigerate for one week. See below for my Swiss chard + sausage topping recipe and some other tasty ideas.
Spaghetti Squash with Swiss Chard + SausagePrint
Author: Angela FreedServes: about 6Ingredients
1 large spaghetti squash
1 package of Aidells® sausage or 4 organic chicken sausages, halved + sliced into bite-size pieces
1 Tbsp coconut oil or olive oil
2 Tbsp organic butter
1 large bunch Swiss chard, de-stemmed + chopped
½ yellow onion, diced
2 cloves garlic, minced
1 cup mushrooms, sliced thinly [any variety]
about ¾ cup of vegetable, chicken or beef broth
1 tsp sea salt
½ tsp black pepper
1 tsp red pepper flakes [optional]
Instructions
To cook squash: [1] preheat oven to 400 degrees, [2]cut the squash in half lengthwise, [3] scoop out the seeds, [4] add cleaned squash halves to rimmed baking sheet [5] bake for 30-45 minutes until tender, [6] separate flesh into spaghetti-like strands.
To make sauce: [1] Add coconut oil [or olive oil] to large pan on medium heat. [2] Once melted add sausage, onion and garlic. [3] Sauté, stirring occasionally for 6-8 minutes until onion and garlic become tender and sausage has a slight sear. [4] Add broth, mushrooms, Swiss chard, sea salt, black pepper and red pepper flakes [if using]. [5] Bring to a light boil, cover, reduce heat to low and simmer for 10 minutes until greens have wilted and softened. [6] Remove lid, add butter and stir until completely melted. [7] Taste sauce and adjust seasoning as needed. The sauce should be slightly "liquidy" but not soup-like.
To serve: Pour sauce over cooked spaghetti squash and mix well. Serve warm. Suggestion: top with a little nutritional yeast or parmesan cheese for some extra nuttiness.