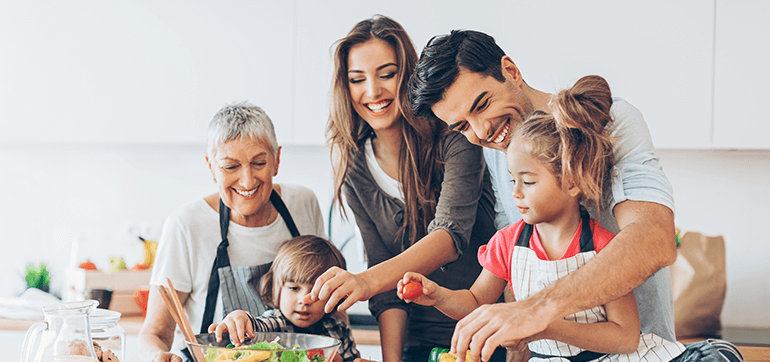 Celebrate Healthy Lunch Day
On Tuesday, September 19, Pinnacle Medical Wellness will participate in the American Diabetes Association's National Healthy Lunch Day. We have healthy lunch ideas, 8 tips for eating out, and recipes in our locations to pick up while you are there.
Why is National Healthy Lunch Day so important? Most of us are uncertain about what's best to eat, what's healthful and what's not. Often our food choices are full of calories, yet lack the vitamins and minerals that we need for energy and to feel our best. Our wellness goal is to promote good nutrition as part of a healthy lifestyle and help everyone make better food choices. To start, let's do lunch—a healthy lunch.

Here's a recipe to inspire you for National Healthy Lunch Day:
Jalapeno Caesar Salad with Blackened Chicken Breast
Serves 4
Serving Size: 3 cups salad
Ingredients
1 pound boneless, skinless chicken breasts
1 1/2 teaspoons extra-virgin olive oil, divided
1 teaspoon freshly ground black pepper, divided
1 small jalapeño pepper, with some of the seeds, quartered
3 large cloves garlic
1/4 cup grated parmigiano-reggiano cheese
2 tablespoons dijon mustard
1 1/2 tablespoons worcestershire sauce
4 ounces organic silken tofu, drained (1/2 cup)
1 large (18-ounce) bunch romaine lettuce, roughly chopped and chilled
Directions
1. Preheat the broiler. Pound the chicken with a kitchen mallet until it's about 1/2 inch thick. Rub the chicken with 1/2 teaspoon of the oil and sprinkle with 3/4 teaspoon of the pepper. Broil the chicken breasts on a baking pan until done, about 8 minutes, turning once. Let the cooked chicken rest for at least 5 minutes, then slice into thin (1/4-inch-wide) strips.
2. Add the jalapeño, garlic, cheese, mustard, worcestershire sauce, tofu, and the remaining 1/4 teaspoon black pepper to a blender and purée. Add the remaining 1 teaspoon oil and blend until smooth.
3. Toss the dressing with the blackened chicken strips and lettuce, and serve. (If you toss while the chicken is hot, serve immediately so the lettuce doesn't wilt.) Alternatively, serve the dressing on the side so everyone can add their own.
Per Serving: Calories 210, Calories from Fat 60, Total Carbohydrate9 g (Fiber 4 g, Sugars 3g), Protein28 g, Total Fat 7g (Saturated Fat 2 g), Cholesterol 65 mg, Sodium 380 mg, Potassium600 mg
Choices/Exchanges: 1 vegetable, 4 lean protein
Cooks Tip
For tradition, add 4 anchovy fillets to the blender when puréeing the dressing; it'll heighten the flavor and add extra nutrients. For added texture and taste excitement, toss the salad with 2 tablespoons roasted sunflower seeds.
From The All-Natural Diabetes Cookbook, 2nd Edition, by Jackie Newgent, RDN, CDN
DOWNLOAD all of the Healthy Lunch recipes here.